Threet guitars feature only hand-selected, well-seasoned, premium tonewoods. Necks are of Honduras mahogany and Sitka spruce is preferred for tops. Choices for backs and sides include (but are not limited to) Honduras mahogany, Indian rosewood, Madagascar rosewood, Hawaiian koa, and Australian blackwood. A few samples are pictured below. For some hints about their various sounds, click here.
Hondoras
Mahogany
Indian
Rosewood
Madagascar
Rosewood
Hawaiian
Koa
Australian
Blackwood
Keep in mind that no two pieces of wood are alike. Each piece has its own colour, grain, texture, etc. Their differences -- even within a species -- can be quite striking.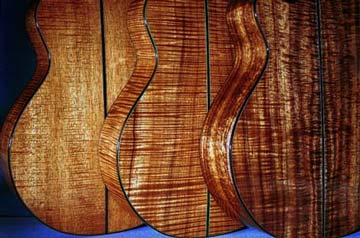 Koa (and its close relative, Australian blackwood) is amazingly diverse in its appearance. The photo at left shows three guitars. Each one is made of koa.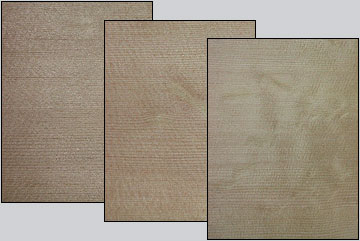 "Bearclaw" is a figure (grain pattern) which occasionally appears in spruce. At left are three examples of sitka; with no bearclaw, with light bearclaw, and with heavy bearclaw.